Mirror's Edge 2D was developed by Borne Games

Now, Ive only played around with M.E. 2D for about 5 or so minutes but the controls are fantastic. (Well, I still havent gotten used to playing games using my QWERTY keyboard) but they are done well enough in a way that creates a fluid experience. (Think Bionic Commando meets Sonic The Hedgehog)

It's also a very open game, with lots of room to explore, and you can earn achievements along the way that will help you rank on the global leaderboards that they keep updated with the top scores.
CLICK THE PICTURE or LINK BELOW 2 PLAY NOW

Controls:
Left and Right arrows: Run
Up arrow: Horizontal wall run, vertical wall climb
Down arrow: Duck
Space Bar: Pause
S or /: Jump
M: toggle music
R at pause screen: Reset lap
ENJOY!

HsH
WORDS FROM THE HERO
Alright, 1st off I want to thank you all for taking time to read this site (or look at pictures). If this is you're 1st time with us, Thank you as well. When I 1st decided to take on this project and turn my ALIAS (THE HOBBYSHOP HERO) Into A Website / Online Magazine / Blog. I had no Idea how Involved I would be or how much time and love I would end up putting into it.

We Are now at the 1 year mark (well A year and 3 months actually) I gotta say Im pretty excited with how everything is going. Tho I haven't quite reached 100 Subscribers (its peaking at 78) the Site gets Generally 700 - 2,500 hits day. which in the grand scheme of things isnt that much but keep it mind. There is no TEAM here, no additional writers, posters, designers, etc. I just do it all dolo.
Instead of posting 10 posts A day, I try to get A little more involved in the quality of A post. (not always) but as A General rule. The Grammar is horrible, Spelling is alien but Its how I make it my own. Enough of that tho, Happy 1 year guys and lets get on with the post!
MIRRORS EDGE is an Amazing Game, Im not going to give you a review of it because well, Ive read alot of bad reviews and I love it so honestly, who cares..... Find out for yourself and play the game (if you have time and the desire to do so). I found out about it via my brother who told me they made a game based on Free Running. (More on FREE RUNNING Later) After Playing the Demo my brother saw how much I got into it and before he left for his military training, He bought the game (I Love my Bro!) well, Needless to say. I Already beat the game =) but I still have to do the Time Trials. Now, im not the kind of cat who plays a game more than once to get achievements or get highscores but I will be downloaded all the BONUS CONTENT for this and putting in some work =)
OnMirrorsEdge
is A website you need to visit if you are A Fan of the game.
A few things I want to touch on before I continue.
There has been alot of gripe about how short the game is. (

Boo hoo

) I can garauntee there will be a Sequel to the game soon. How do I know?..... Because I Researched hahahah They made the game shorter to make more $

$

$

$

$

which is understandable and just fine with me.

There are alot of

Secrets, Sub-stories

in the game.

RATS, RATS, RATS

=) do some hunting on the interweb. I think my favorite is one that leads you to A website online which continues the story. (

Sorry no Spoilers here

)

Faiths Style

is great,

her shoes

have caused a massive worldwide campaign to get those bad boys put into production. You can search for them, but like the NIKES from Back2TheFutureII, They never left concept stage (

yet

)


FREE RUNNING

(parkour) -

my brother put me onto free running and i've been hooked. It is amazing. Its been featured in James Bond

(casino Royale),

District b-13

(A dope French movie)

& A million other things.
(If you've never heard of parkour or free running, check it out on
YouTube
— You're in for a treat.)
________________________
DOWNLOAD the THEME SONG from MIRRORS EDGE
________________________
________________________
The Comic-Con exclusive

Mirror's Edge

mini comic
I WANT THIS

BAG!!!

ANYONE wanna

DONATE IT?!?!?!
___________________
THE
SNEAKERS
OF

MIRRORS EDGE
As I said before, Right now there is NO EXACT replica of Faiths shoes at the moment but given time I am sure we will see them. For now, there are pretty good Runner-Ups. I'm not going into detail the history of Parkour shoes (
FreeRunning
) but I will Direct you to A Link you must CHECK NOW!
Puma_Parkour_Concept
AGAIN, Check the Link!
__________________________
My Future Wife
"Karum Murasaki "
In my Opinion....
Perfection
!
COS PLAY or NOT.
(
I've seen the no-makeup shots
)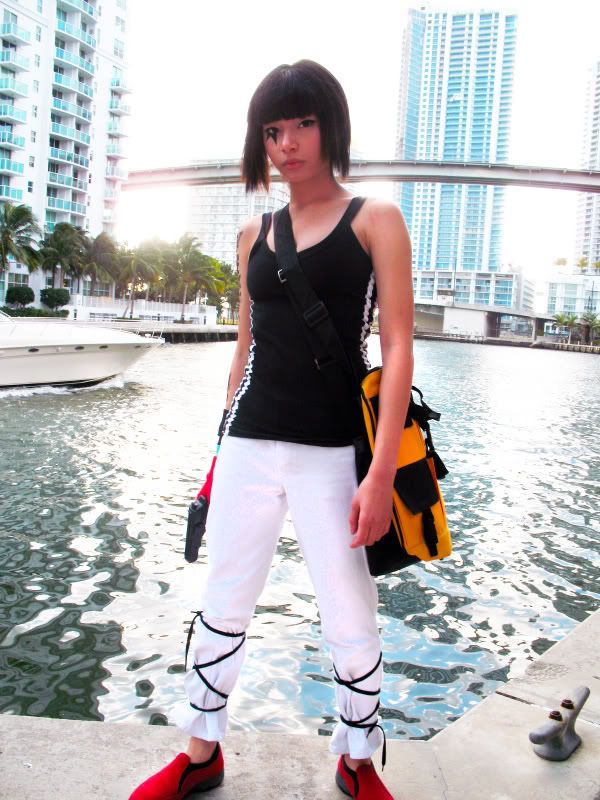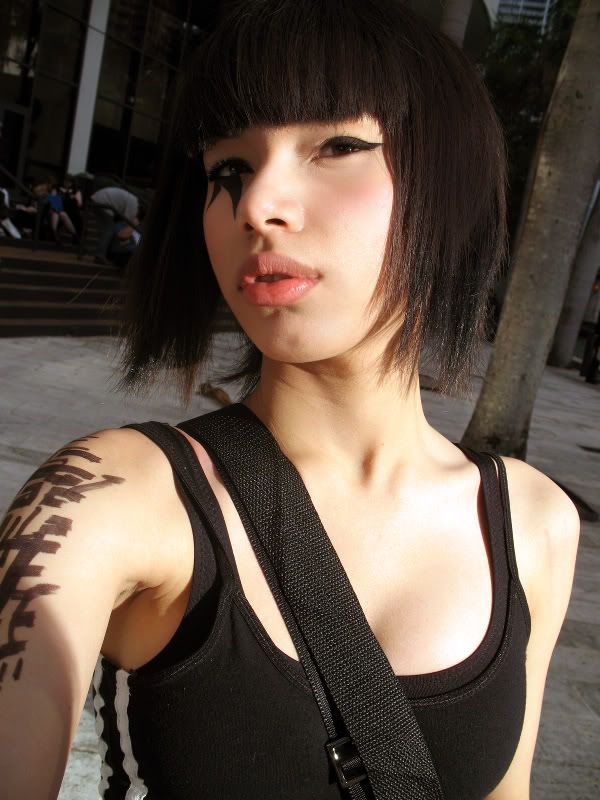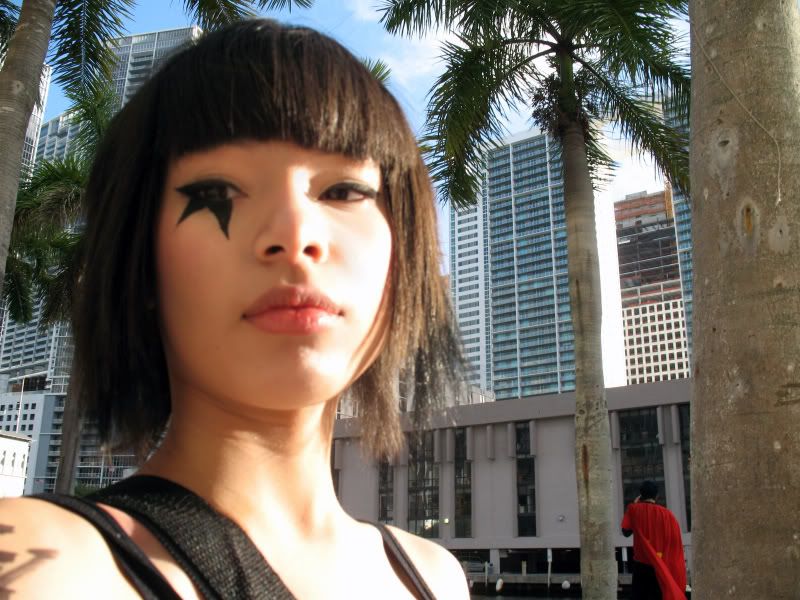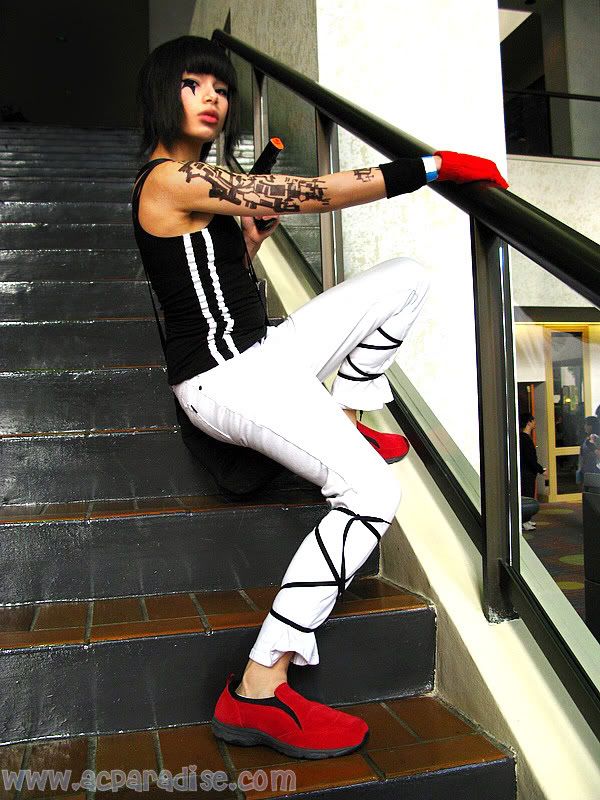 PIXELATED GIRL
|
Mirror's Edge Photoshoot
http://pixelatedgirl.com/
You gotta give it up for my girl
JANNICA
over @t
Pixelated girl
,
not only does she have A Unwavering and divine love for Eggplants but she is A Videogame Goddess who shares my sentiments that
8BIT GRAFFITI
is the "NEXT BIG THING"
D/L these Wallpaper(S)!?!
You can choose between the original photo wallpaper, and the wallpaper with a little more flair to make it look like it's more legit
______________________________
_____________________________
Mirror's Edge
Munny
in the making
Fans of Mirror's Edge and Kid Robot's Munny are in for a treat. Cat, a Flickr member, has been working on a Mirror's Edge themed Munny and posted pictures of the progress. Although not finished, It is looking pretty sweet and I can't wait for the final product.

- [ SOURCE - BEETSTRO ] P.S. I have a little Crush on Drea Avellan from Beestro =)

______________________________
MIRRORS EDGE on DEVIANT
http://thehobbyshophero.deviantart.com/
Deviant Art is A amazing website full of out of this world talent - Think of something you love, like, YOSHI or UNDERWORLD, etc.. Type it in the SEARCH as I did for MIRRORS EDGE and you will get - Hundreds if not Thousands of Fan Art. Here are some I found last moment right before Publishing this post.
H
s
H