WORDS

FROM THE

HERO
Back From Hiatus like A Diamond D Remix Featuring CRU!
(
Diamond D - The Hiatus (Remix ft.CRU)
)
Peace, World

. I know it seems like it has been A week

since Ive posted anything new

and that is part true, but not entirely. In Fact, There has been more than A few posts since the last one that you can read/see). I just never published any of them. It was A Little "

Social Experiment

" + The few posts Sitting in Que were in need of A little extra Research.
I wondered how the lack of posts would

affect Traffic

compared to A normal week, or A week of Heavy posting on my part. I was surprised to see traffic did not suffer due to a lack of new content. (which It shouldnt, because it gives you time to backtrack and check out all the Specially placed posts made since the birth of H

S

H).
But Enough of Stats and whatnot, I wanted to

hook up the producers

and/or potential Beatsmiths on this one. You will be able to

download

multiple

Drums loops & Break beats

if you desire. So I guess lets get Started..!
Proceed.
You will want to visit the link I have provided below in order to fully appreciate and take advantage of these breaks. Drumaddikt is A very Minimal and easy site to navigate. It simply has The Link to download/or listen, The Group and song in which the drums are associated with, and on some of them he (or she?) has provided a link to Amazon to buy the entire record.
(of Coarse, if you just want to download the breaks for free be his guest)
Ive Done you the honors of posting just A few random selections from the page,
for the rest Visit
-
HsH
http://www.drumaddikt.com/
_______________
Boogie Back
download
Roy Ayers Ubiquity - Boogie Back
1974, Polydor - PD 6032
_______________
Catch A Groove
download
Juice - Catch A Groove
1976, Greedy - DGD 108
_______________
Don't Change Your Love

download
The Five Stairsteps & Cubie - Don't Change Your Love


-1968, Curtom - CR 1931
_______________
Dump

download
Soul Vibrations - The Dump
-1973, Vibrant - SO 12858
_______________
Too Hot To Hold

download
The UFOs - Too Hot To Hold
_______________
You And The Music
download
Donald Byrd - You And The Music
-1975, Blue Note - BLNA 549
_______________
For the rest of em, you gotta visit the site

www.drumaddikt.com
__________________________________
VINTAGE BREAKS - ZIP (1 huge download)
Different Site, Different set up. This time all you have to do is download (1) Zip file and it contains all the drums/samples listed below. The D/L link is here as well, but you might wana head over to Source link and check out whatelse they might have.
- HsH
Vintage breaks sampled from old funk tunes.
SOURCE - [rhythmlab]

+ Download (35 mb)
Tracklist:
B.W. Souls - Marvin's Groove
Benny Gordon - Give A Damn
Bobby Allen & The Exceptions - Soul Chicken
Campbell, Don Soul Train - Campbell Lock
Chuck Colbert - Oof (Do Anything I Want)
Cus The Groove Lewis - Let The Groove Move You
Fatback Band feat. Johnny King - Keep On Brother Keep On
Georgeus George & Love International - Fon-Kin-Love
Grady Tate - Be Black Baby
Inclines - The Atlanta Boogaloo
Johnny Holiday - Tormented
Landlord & The Tennants - Sagittarius
Lorraine Jackson - Take It Where You Found It
Marvin Holmes & The Uptights - The Funky Mule
Meters - Just Kissed My Baby
Mr. Percolator - Got A Thing For You Baby
Six Feet Under - Chocolate sugar
Soul Stoppers Band - Boilin' Water
Soul Tornados - Crazy Legs
South Bronx - The Bottom Line
Steve Colt - Dynamite
Stevie Wonder - Passo le Mie Notti Qui da Solo
Third Guitar - Baby Don't Cry
Tyrone Harris - Ain't That Fun
Village Crusaders - Akiwawa
White, E.T. And The Potential Band - Funky Soul Shake
Download (35 mb)

__________________



From the earliest of instincts to tap out A pattern, long before the stylish and Influential African rhythm section. All the way up the chain of progress or..... Fire wire cable of progress in this case. Long across the marching band practice fields into the Mac book on my lap, loading up Sampled drum patches on Software Drum machines.





The Boom, ...Tick, The BAP......



The DRUM LOVE.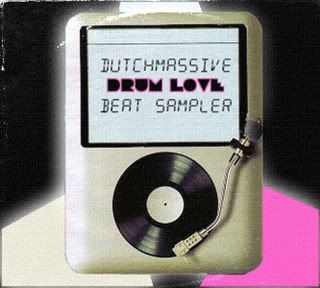 (Click on the photo above to Download "The DrumLove EP" for Free)
THE HOBBYSHOP HERO
presents...
"
The DrumLove EP
"
(
A DUTCHMASSIVE BEAT SHOWCASE
)
(designed exclusively for the Blogosphere & beyond)
After a decade of releasing music on various formats such as Cassettes, CD, Vinyl/Wax Dutchmassive has spent the last 6 months planning a new form of attack (free digital downloading).
The Drumlove EP (running time 20:24 min) is A instrumental Project designed by Dutchmassive, to spread Throughout the WorldWideWeb. It has quickly become a Staple among the Online Music & Fashion Magazines and its making its way thru the Blogosphere as you are reading and listening at this very moment.
DOWNLOAD IT / DUB IT / BLOG IT / SEND IT / POST IT / LOVE IT / LOATHE IT / HATE IT.
Just be sure to listen to it all the way thru.
(
Copy & Paste
or
Click 2 D

/

L
)
http://www.sendspace.com/file/995cds
_____________________

LAST MINUTE ADDITION

Good Friend, Dope Producer, & Parter Rocker

RAN MECCA

sent me an EMAIL the other day w/ this Attached. Only thing is not much else was in the email so I have no Idea beyond what this says to do or who can submit. I would suggest Emailing

RANMECCA@GMAIL.COM

if you have any questions. From what I gather,

A DRUMLOVE APP

for the I-phone Sounds HellaSuperNeato Torpedo Exciting.

DEADLINE 03/14/09