NOW AVAILABLE in BLACK!!!!!!
WORDSfromtheHERO

"Korg announced a new black color option for their nanoSeries products"
Oh Word? Really? Did They? ooooooooooh K, now that we have that bit of info out in the open I guess we should touch based on what brought us to that glorious Announcment. It began summer 2008. I was camped out in my usual spot in the Borders (coffeeshop Area) right next to the magazines with my stack of Music, Art, Design, Audio and Tech Magazines. Each trip (once A month) usually lasts 4-6 hours and consists of 30-60 Magazines.
I would thumb thru each one and take notes on who the editor was, who reviewed the music that was similar to that of the music I create. I would jot down interesting website links, design companies, Artists, etc, when all of a sudden there they were! Small Audio Attachments that made my eyes grow wide and my heart sing. Only a few pages into the magazine (COMPUTER MUSIC) which is my favorite magazine.
I came across The KORG NANO SERIES.
A few months Prior I just purchased A MacBook for touring so when I saw, 3 Essential things needed (A Midi Keyboard, an Mpc Style Pad & A Midi Controler, all the exact size and color of my Macbook I was in heaven. I then spent the next few months playing the waiting game. Searching for reviews and user comments to see if they were all I hoped they were.
Fastfoward to Feb 2009, I have gathered and come to this personal conclustion.
1. I have Horrible Grammar / Spelling hahaha 2. The KorgNanoSeries are indeed worth purchasing for a few reasons. They are super portable & durable and they are very inexspensive.
The downside which is noted in some of the videos I have posted below is the NanoKey has a slight flaw in the design which makes it akward for experience keyboard players. All of the Keys are the same size instead of the black keys having a slimmer design. Another issue is the far right key is directly next to the Menu, Edit, Command Keys, so it is too easy to accidently hit the wrong button during A live performance. The Issue I have personally is I am trying to learn to the keyboard right now or at least I would like to, So the Nanokey wouldnt be the best choice for me at this time.

(SIDENOTE/REQUEST)
Because I am trying to learn the keyboard I am not sure which Midi controller to go with, I was going to get the Oxygen 8 but I was told by a few people to get the Axiom 25, What I am wondering is should I purchase A keyboard with 88, or 4o something keys or will I be able to learn just fine with 25 keys?..... If anyone can recommend or share any info suggestions, please leave a comment.

In Closing, I wanted to showcase this product for you guys a while back but waited until I knew more info. I hope this helps =)

HsH

There are three different controllers in the line:
*
nanoKEY
:
25 keys, transmitting either as MIDI notes or (via a separate mode) Control Change (CC) messages. Octave shift (natch). Pitch, modulation. And it's supposed to be velocity-sensitive, too, although we'll have to get our hands on one to see how sensitive it is.
*
nanoPAD
:
12 pads, supposedly inheriting the terrific sensitivity and feel of the padKONTROL, which is pretty much the favorite pad controller round these parts. Chord Trigger. Control Change mode (as with nanoKEY). There's even an X/Y touch pad with roll and flam mode, favorite features of the padKONTROL.
*
nanoKONTROL
:
9 faders, 9 knobs, 18 switches, transport controls. (No, really.) MIDI notes, 168 CC messages. There are even attack and decay times for the switches, allowing them to work as faders, filter controls, effects settings, and the like – something I'd love to see on other (full-sized) controllers.
Software + Extras

The Nanokey Includes A Download Code For The Full Version Of Korg's M1Le Software. An Upgrade Path To The Korg Legacy Digital Edition Software Suite Is Also Available, Containing An Expanded Version Of The M1 As Well As The Wavestation And 19 Mdex Effects.
The Nanopad Comes With A Download Code For Toontrack's Ezdrummer Lite. An Upgrade To The Full Version Is Also Available.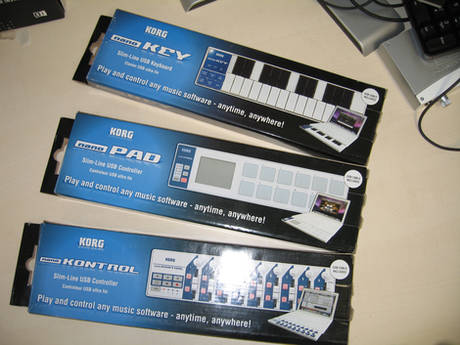 * All Three Models Include A Discount Coupon For Ableton Live Le Recording Software. "Korg Kontrol Editor" Software, Downloadable Free Of Charge From The Korg Website, Provides Nanoseries Users With Even Greater Control.
* Both Color Options For The Nanokey, Nanopad And Nanokontrol Are Now Available With A U.S. Msrp Of $62.00 For Nanokey And $72.00 For Nanopad And Nanokontrol.
For more information, visit their web site at www.korg.com.
________________
Now, For A more detailed breakdown of Each component w/ Picture Examples (Yah!)
- HsH
Korg Nano Series
(MIDI Controller)
The
Nano Key
,
as its name suggests, is a keyboard-based device with

25 velocity-sensitive keys

, which feel like the type used in laptop keyboards. In '

CC mode

', these keys can be used to send controller information, so you can alter any MIDI parameter. An Octave Shift button enables the Nano Key to address all the MIDI notes of a full-size keyboard, while Pitch and Modulation functions enable the user to apply pitch bend and modulation, as is possible with most standard MIDI controller keyboards.
The

Nano Pad

has

12 velocity-sensitive pads

and a neat

X-Y track pad

, making it ideal for drum programming. But the pads aren't just for triggering samples; they can be used to transmit control change messages, so you can mute and solo tracks in DAW software, for example, by punching the pads. To further add to the Nano Pad's functionality, it's got a

Chord Trigger function

that lets the user assign a chord to a single pad, and freely downloadable software enables the user to create 'scenes', essentially

enabling 48 chords or pads, and 60 MIDI controllers

to be accessed at the touch of a button. The X-Y track pad has been set up with Roll and Flam modes, which compliment the drum pads and make realistic drum programming a breeze, but it can also be used to transmit conventional MIDI CCs.
The final new product in the Nano range is the

Nano Kontrol

, which has

nine knobs

,

nine faders

and

18 buttons

, all of which are

freely assignable

. There's also a full transport section, which can be set to transmit standard MIDI CC data or MIDI Machine Control (MMC) messages. As with the other Nano controllers, multiple sets of parameters can be created.
All three Nano devices are bus-powered via the mini USB connection, which is on the side of the units. The Nano Key will cost just £49, with the Nano Pad and the Nano Kontrol both costing £59,
This is the original or 1st video I came across last year from the "London International Music Show", when I 1st became aware of the KORG Nano Series, It didnt really sell me fully which is why I still do not own them yet, but I wanted to include it in the post anyway.
-
HsH
I Also wanted to Include A few videos of the Hardware in action for you guys so Enjoy the short demonstrations

- HsH


______________________________________
WE WILL ROCK YOU - FREESTYLE PROGRAM SESSION
_______________________________________NANOpad_______________________________________NANOpad - Review_______________________________________NANOkey - Review_______________________________________NANOkontrol - Review
_______________________________________

A rendition of Chopin's Valse on Korg NanoKey and NanoPad.