(c) The Bed Room (2004)
Did you know that

VINYL SALES

are at an

ALL TIME HIGH?!?!

that is A "FACT" if you doubt that statement, follow it up w/ some research. It is true, we are in A digital age and its moving forward each day. There are alot of Upsides and alot of downsides to that undeniable truth which I will not go into. Personally, when it comes to A Medium of choice cassette tapes take up 60 percent of my music collection and for a good reason. Tho I have had some of the greatest nights of my life,

Alone w/ the lights off, Windows open, Nag Champa burning, Vinyl Spinning and recording into Soundforge

. The Creative process of

MUSIC 2 SLEEP TO

(Circa 2002 - 2004) was the greatest period of embracing wax for me. Tho, I have without a doubt dove head First into the Hip Hop Culture, I have never really dabbled with the DJ aspect of the Culture. Emcee, Producer, Engineer, Graf, but never touched A 2nd Turntable or a Mixer.
My Biggest flaw, and greatest regret I have is being ignorant when creating my past records and albums. I would spend hours, days, weeks, months, Listening, recording and editing samples from Vinyl and I never took the time to label things correctly or write down where the sample came from etc. So now I have all this knowledge of music history, Audible wise and couldnt tell you who or where the samples came from which I am Ashamed of, I can only make sure in the future I dont repeat the same Mistake.
Alot of our younger and newer generation will never know the wonder of vinyl. I consider myself blessed to have released multiple singles on Vinyl and my Debut album "

Junk Planet

" not only is in stores world wide on Cd, it is in record shops in the form of A Double Vinyl Album.
These Days, Kids Record songs on their computers, never setting foot in A Studio with A-dats, Recording Boards and booths, upload mp3 files to myspace and or blogs and make noise thru the spread of a low quality, track. I guess that is alright, but it still makes me a little sad.
Digging @ Vinyl Fever (Tampa, FL)
My Last Album, "

Crush Your System

" was released Digitally on

Rawkus Records

, and A year later I just wasnt satisfied with the results. So this Summer, It is being Re:Released On CD with New Tracks, and we are pressing A

Limited Edition 7"

which I am super excited, because I have only released 12" up to this point.
I wanted to just take time out to bring light to the

Art of Diggin

and the

love of Vinyl

. So, I included an Item I found A few years back, only to find out. It was discontinued and is no longer in production (

BRIEFCRATE

) I also Including some Artwork of Record Diggin. I hope you Enjoy my short but needed post on the Art of Diggin.
Peace
HsH
AGAPE MOU is Gaurding some of my HipHop Vinyl hahaha
____________________________
The

BRIEFCRATE

by

ThingsMatter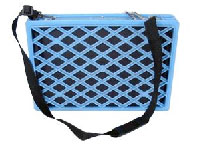 Thank you for your interest in the BriefCrate™.

BriefCrates were produced and sold in 2001-2003, and were featured in several print and online magazines from that period. The content (links, photos and all) gets recycled around the web, and people end up visiting an outdated URL five years or more later, as you have.
Unfortunately, we were unable to maintain production. Milkcrate aquisition was insufficient to keep up with demand, but demand was insufficient to justify purpose-built crates (which wouldn't have been as cool anyway). Additionally, there are some ecological drawbacks to the BriefCrate's production cycle. A perfectly useful, infinitely reusable plastic product was being cut up and partly thrown away to make an overbuilt, less useful product, albeit a very stylish one. You can't buy the BriefCrate here anymore, but we at thingsmatter like to have links work, for a satisfying internet experience. We hope you enjoy the online time capsule below.
We still have a small stock of black crates, which may be downcycled in the future. Write to us, and we'll let you know if we ever sell this final edition of the BriefCrate.
If you REALLY want one, consider making it yourself. Please send us your pictures, or help everyone by making an instructable for the BriefCrate.
http://www.thingsmatter.com/briefcrate/index.htm
_________________________
___________________________
www.stefanglerum.com


prints for sale!
Each 14x14 inch Print costs 35 euros

.
Each print is numbered and signed

.
If you'd like more then six prints, the price drops

.
Shipping costs are not included

.
email Stefan
: fleamarketfiend@gmail.com
Growing up as a healthy young Dutch boy,

Stefan Glerum

(Amsterdam, 1983) developed an interest in old paper, second hand records and extremely large trousers. To give shape to these fascinations Glerum started to work as an assistent to Dutch master of the clear line Joost Swarte.Glerum went to study illustration at the Academy St. Joost in Breda. He just finished his studies and now works as a freelance illustrator and designer. Recently his series of 'crate digging, don't do it' illustrations depicting the downsides of record collecting have found their way to the public and are sold worldwide. Also Glerum and his friends aren't shy to be singin' 'n rappin' behind a turntable or two.They are collectively know as Bathtub Piracy.they go by the names of Bathtub Pirate, Mr Diggins, Steam Supreme,FM Fiend, the Funky Bowman, Benjamin Diggins, Truly Pheasant,the Sjoel of Hardknocks & the Clean Kids Crew