..........................................
WORDS

FROM THE

HERO
I have always wanted to be able to create Visual's whether it be a photo, video, or just anything to accompany the music I create. My dear friend

Michael (Mishoo)

pulled off such A heart felt video.... and it made me feel so wonderful....... This past Month I was

Blessed by the heavens to have met the most Amazing woman

in the world...... and I know I know....Everyone says that the person that they are diggin is the best, but its not even like that yo, This woman really does embody every single quality that me personally,

Dutch VonEpp Ziegler

have been searching for my entire life......... So it's crazy how many hours out of the 24 hour day, I am in day dream mode, shooting videos in my head of us walking on a beautiful day, circling around her as she stares forward not even paying me no mind, but the vibe and the visuals in my head are so peeeerfect...... I really Would like to get my hand on this dope camera
I tried to show my
"Ms Unobtainable"
this footage of this camera because I know she has such a deep passion for photography, as well as music as well as......
(sigh) Flutter Flutter....
just peep the Video.... I want this Camera...
Specs: Canon7D w/ 17-55mm 2.8IS, Glidecam HD-2000
Vancouver - Testing the Canon 7D from brandon moza on Vimeo.
WORDS FROM MISHOO
Dear friends and followers, Here is my little music video for Home sweet Home. It's self-shot, on a sunny Finnish winter day in my car. I've had fun recording it with my DV camcorder. First thing I do next year is to invest into film equipment for future projects. I would like to thank Dj Madsen for the wonderful beat, my lady for all the creative input and
Sasha Faq
for the great artwork. Make sure you check her page.
Home Sweet Home by Mishoo The Drumkit from Mishoo The Drumkit on Vimeo.
__________________________________
Please take time to download this project below by CLICKING on THE PICTURE.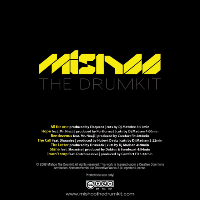 TRACKLIST:
01.
All for one
produced by
Elaquent
| cuts by Dj Mawdee
02.
Hope
feat.
Mr. Nnaji
| produced by
Portformat
| cuts by Dj Madsen
03.
Rendezvous
feat.
Mr. Nnaji
| produced by
Comfort Fit
04.
The Call
feat.
Shuanise
| produced by
Hubert Daviz
| cuts by Dj Madsen
05.
The Letter
feat.
Mr. Nnaji
| produced by
Drumatic
| cuts by Dj Madsen
06.
Shine
feat.
Shuanise
| produced by
Duktus & Swede:art
07.
I won't stop
feat.
Dutchmassive
| produced by
Comfort Fit

DOWNLOAD the EP HERE