WORDS FROM THE HERO
Peace, WORLD! ....I Love Plastic, One of my Favorite Books of all time! haha tho it is primarily A picture book it is the dopest coffee table topper A Goonie can Own!!! As you can see Below I have A Black & While DIY DUNNY/MUNNY & I have No Idea what to do for the Customization....... Any Suggestions? If so Leave em in the comments.......Enjoy this wonderful post presented by Collect3d.com! - HsH

Starting a new hobby can be difficult, and Collect3d gets that. We've all been there, that difficult first part where you're still learning the names, and trying not to embarrass yourself while your new friends talk around you. To remedy this, the staff at Collect3d has put together this list of 63 Vinyl Artists You Should Know, from Amanda Visell to Tristan Eaton. Brush up on these names to know, before you wind up accidentally trading away your chase Travis Cain Dunny.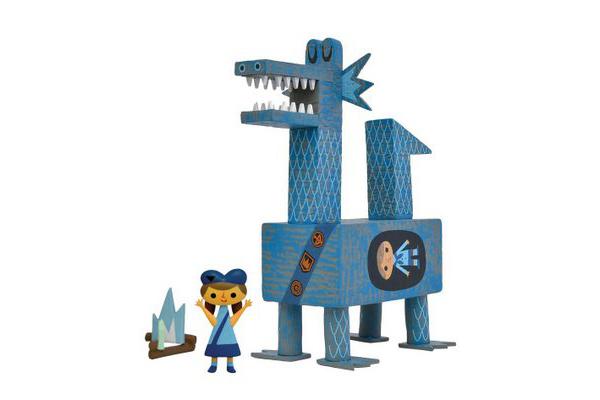 A Los Angeles-based artist and toy designer, Amanda's collaborated on two Kidrobot Dunny series, and her own Pink Elephant and Poopicorn toys show off her Craig McCracken-esque aesthetics. Visell also gained some fame for her wooden renditions of Frank Kozik's Labbits, which she sold in late 2009.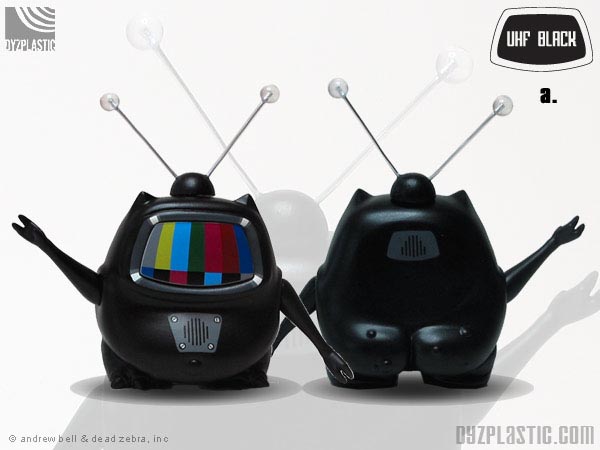 British-born New Yorker Andrew Bell is primarily an illustrator, but has done customs for Kidrobot and MADL. His creative, imaginative designs have proven his ability to crossover into the 3d world, and secure his spot on this list.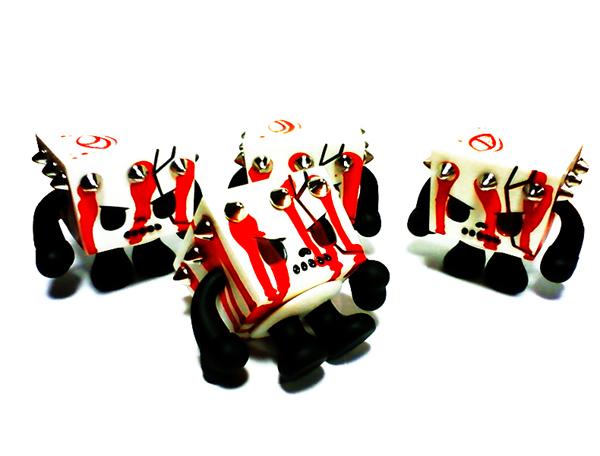 Japanese company Artdenka is a newcomer but it's gained critical acclaim for its Skullbox toy. Made of rotocast vinyl and infinitely customizable, it's become a huge hit with toy customers and artists alike. Though not widely available in North America yet, collectors can try hitting toy importers if luck is not on their side.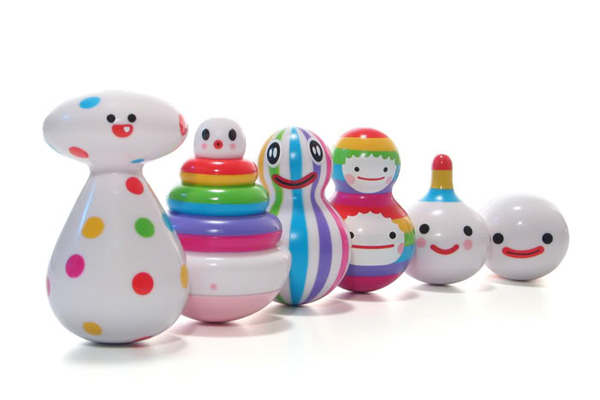 Founders of Friends With You, these two artists and designers might be better known for their plush work, but their Good Wood Gang and Wish Come True toy lines have given them hard-toy success.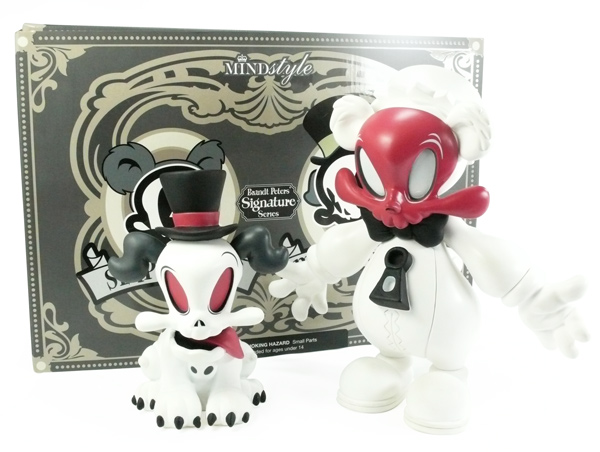 Pop art-inspired work by Peters has been seen on Munnys, Mad Ls and Qees, in addition to his own beautifully grotesque pieces. Peters's work is like a sideshow attraction, eerie to see, but strangely alluring.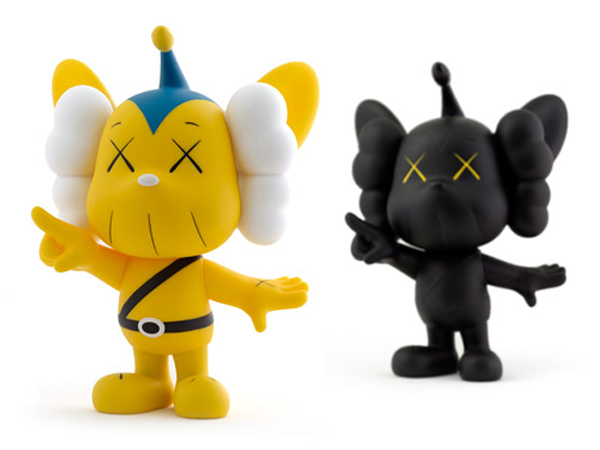 Brian Donnelly built his reputation as KAWS, a prolific social graffiti artist in New York City in the 1980s. Donnelly began working in vinyl in the late 1990s, making him one of the earliest American toy designers, breaking paradigms and staying ahead of the curve.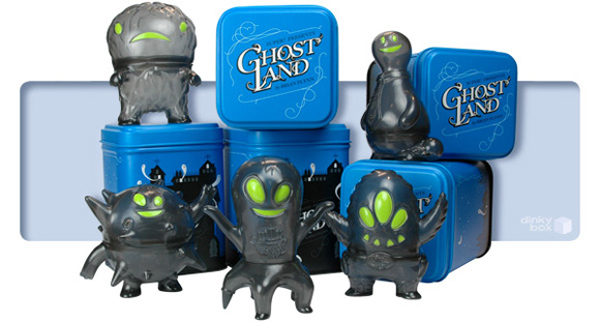 Founder and owner of Super7, Brian Flynn is a designer in his own right, specializing in kaiju figures, toys inspired by Japanese giant monster films. Super7 itself is one of America's foremost retailers of Japanese kaiju toys.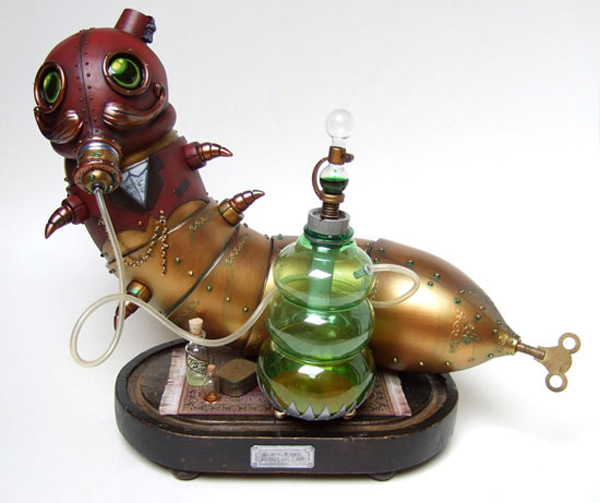 As his name suggests, Doktor A is one of the best steampunk designers and toy customizers active today. His original pieces are considered the best steampunk toys available, while his custom pieces push the boundaries of what's possible with DIY toys.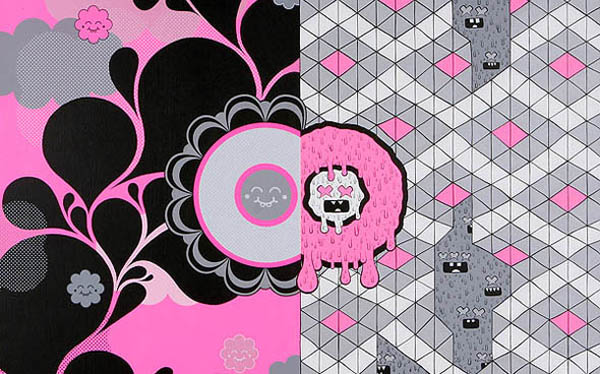 The mysterious Buff Monster is one of the foremost American illustrators in the Japanese style today. After a string of successful custom pieces, and contributions to various artist series, Buff Monster has now launched his own extremely popular Buff Monster series.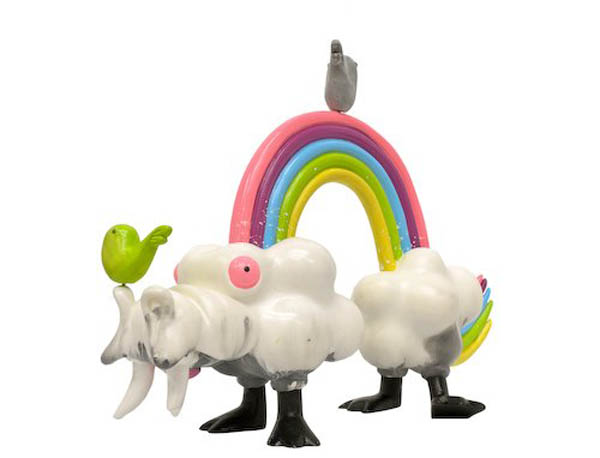 Experienced painter and toy designer Bwana Spoons cut his teeth doing customs for various one-off toy shows before being invited to design for various toy series. Now a designer in his own right, Bwana's work carries a childlike sense of wonder that imbues his work with an innocent, almost nostalgic quality.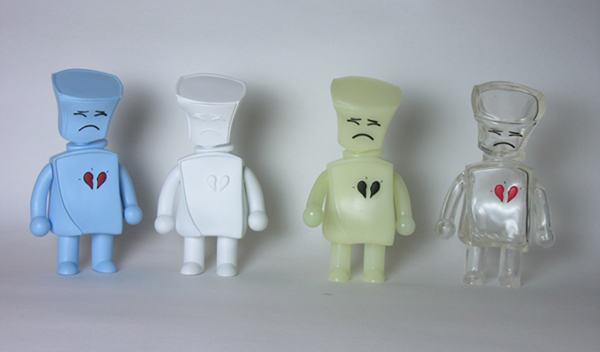 Newcomer Perkins jumped straight into the deep end, founding GENSHI:TOY to produce and distribute his Broken Heart Robot toy. Perkins is one of the new school of toy designers who don't require an established toy company to back their designs.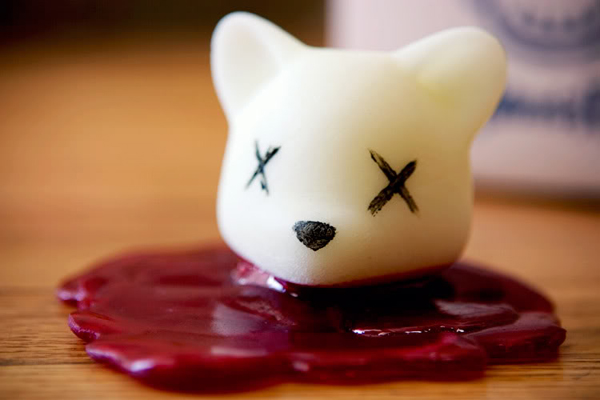 Bondi's sculpting work has given life to some incredible toys, including Delme's Go Lucky Neko and Luke Chueh's Possessed. Dave's own Akashi toy quickly sold out of its original run, validating his talent and vision.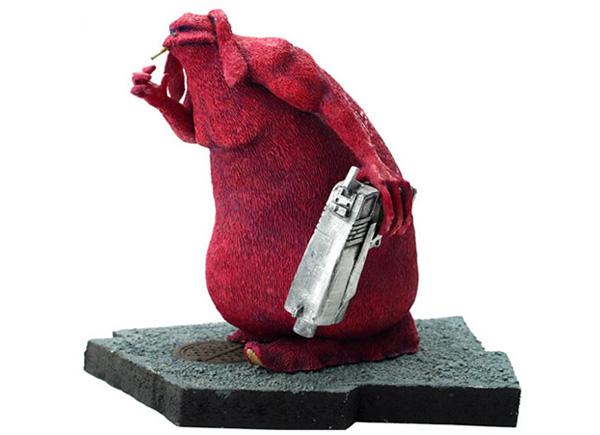 Los Angeles-based Pressler has lent his sculpting skills to Frank Kozik, Luke Chueh and Ron English in the past, making his pedigree irreproachable. His own toys, such as the Endorphins series, Robot and Monster, and Gas Powered Dragon show a great balance between the cute and the macabre.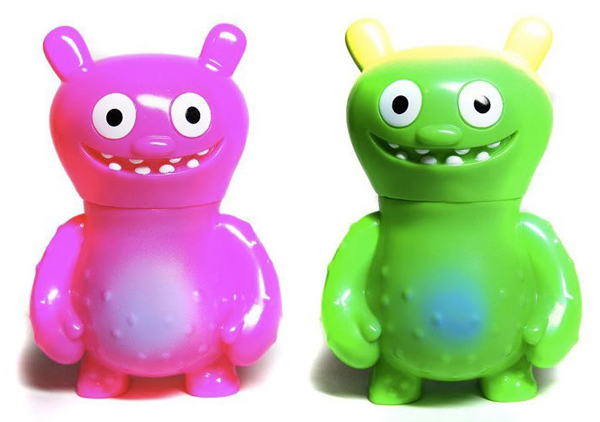 This husband-and-wife team turned what was originally a new children's toy line into the million-dollar Uglydoll plush toy empire. Outside of their Uglydoll work, Horvath creates limited edition Kaiju toys with his wife, and Kim writes Korean children's books.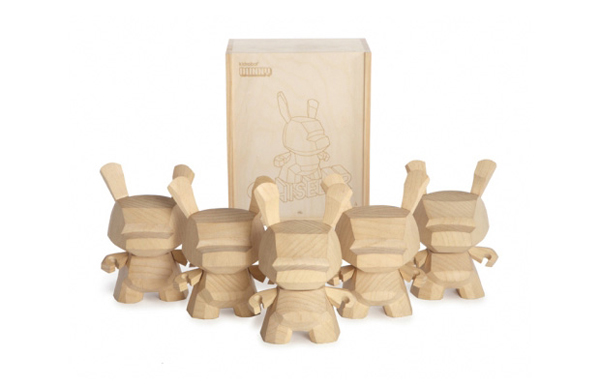 World renowned lighting and furniture designer David Weeks branched out into toy design as a break from his day job. With an extremely popular wooden Chiseler Dunny, Weeks can now claim collaborations with Kate Spade, W Hotels, and Kidrobot.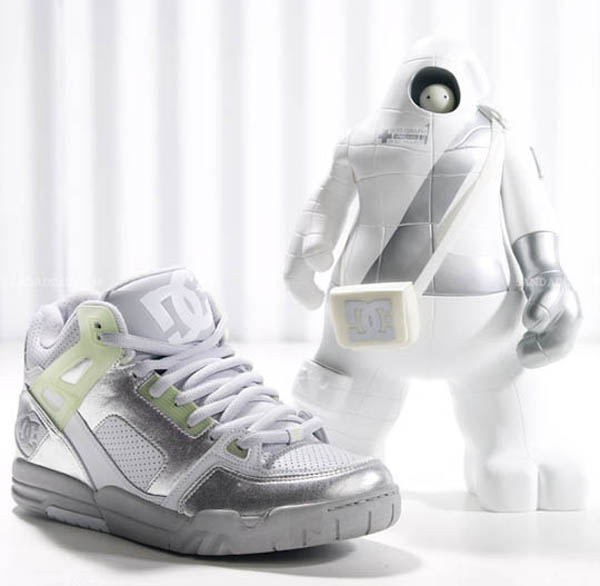 UNKL founders Derek Welch & Jason Bacon started as graphic designers and artists, and are now toy entrepreneurs in their own right. Breaking into the scene with their HazMaPo toy series, UNKL now boasts an entire lineup of brilliant designer toys that any company would be proud to call their own.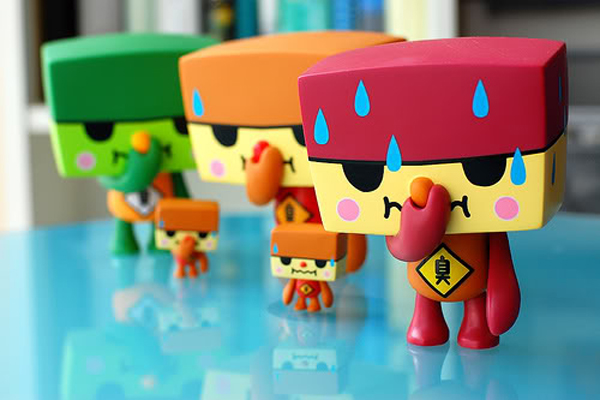 Japanese brand Devilrobots is known worldwide for its creative Tofu line of vinyl toys. With a cachet that reaches beyond its native Japan, Devilrobots has made a definite impact on the world of designer toys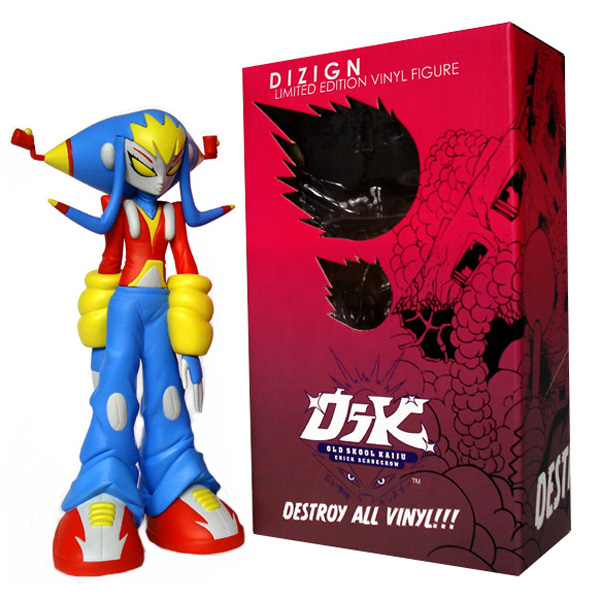 Founder of ESC-TOY LTD, featured in Japanese trade magazine Hyper Hobby, and Plastic and Plush's artist of the year, Scarecrow is one of the most prominent names in independent toy design. With a deep ties to the industry, and a keen eye for design, Erick Scarecrow and ESC-TOY is one of the best all-around designers and entrepreneurs working today.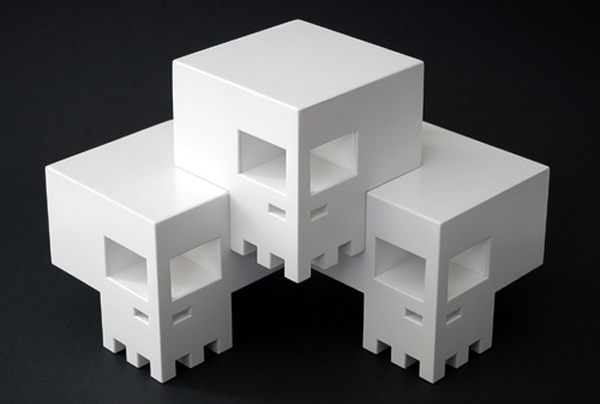 The enigmatic American designer Ferg, is responsible for a handful of incredible designs, from Jamungo's Squadt figures, to his PLAYGE's Misfortune Cat. Never rushed, Ferg's designers are well-thought-out and highly popular among collectors.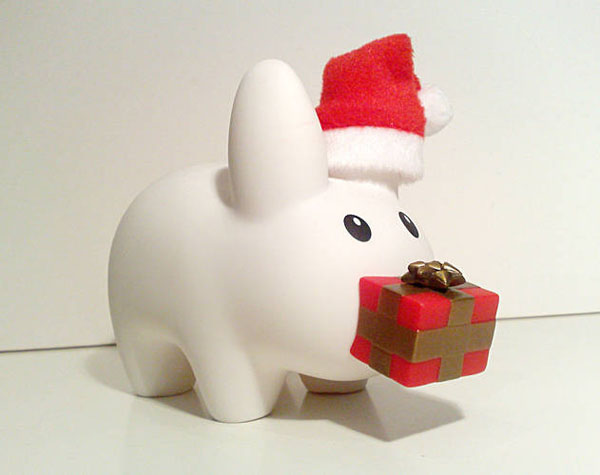 Perhaps the most influential toy designer working today, Kozik's fame expands beyond designer toys with gallery exhibitions dedicated to his colorful pop-art and sculptures. Best known for his Labbit line with Kidrobot, Kozik isn't just a toy designer – he's a cultural phenomenon.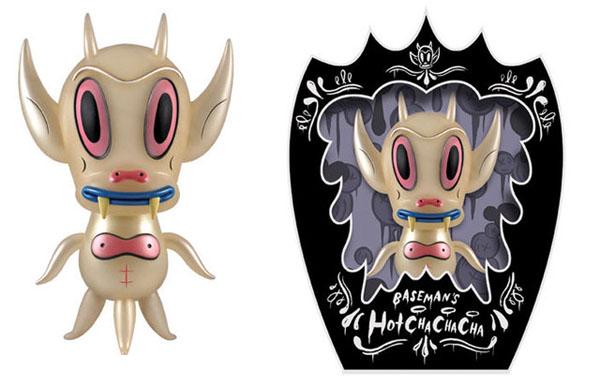 Three-time Emmy-award winning illustrator Baseman earned his fame for conceiving Disney's critically acclaimed Teacher's Pet television series. His toy designs are cartoonish but a stark contrast to Japanese style figures, and American urban vinyl alike, making them highly prized pieces by collectors for their aesthetics.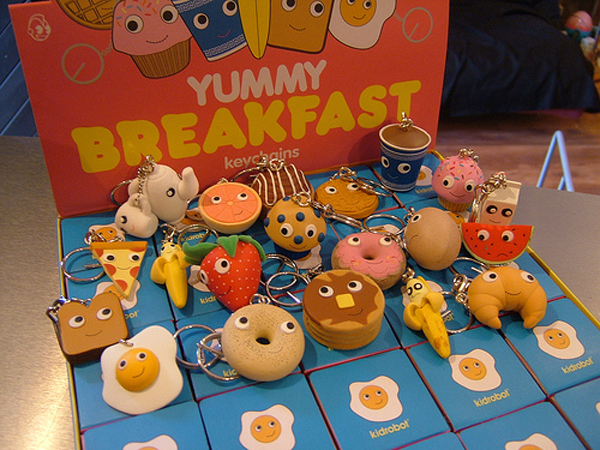 Best known for her prolific plush work, Kenney's Yummy Donut and Yummy Breakfast series of blind boxed vinyl zipper pulls have proven to be incredibly popular. Kenney's background in plush and unique, happy outlook on the world makes her an artist worth watching.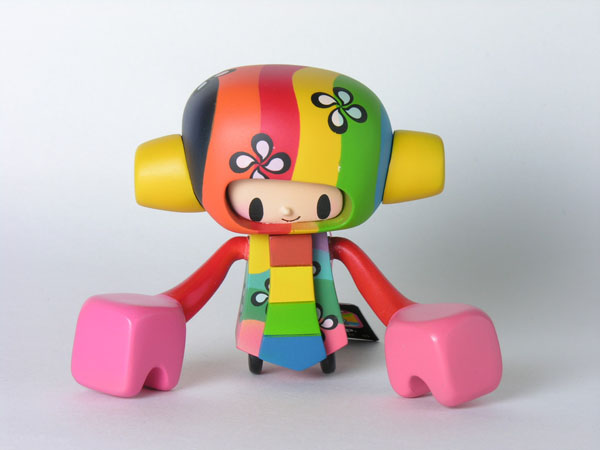 With a design background, Park has been creating original characters in Japan since 2004. After moving into toy design in 2005, Park's toys have steadily grown in popularity, and were the subject of an American solo show in 2009.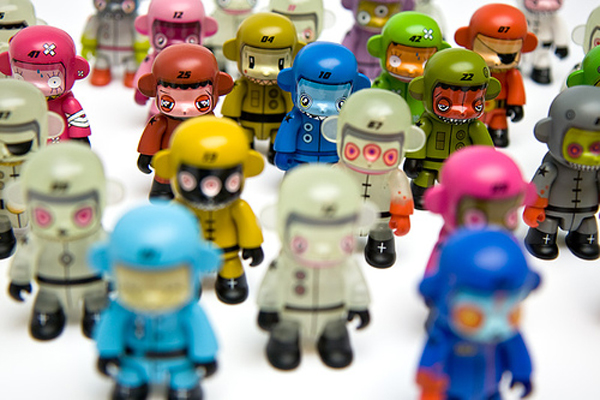 Like many of the biggest names on this list, Dalek is an artist first, and a toy designer second. His Space Monkey toy, and frequent participation in artist series however, makes him one of the most common names in the community.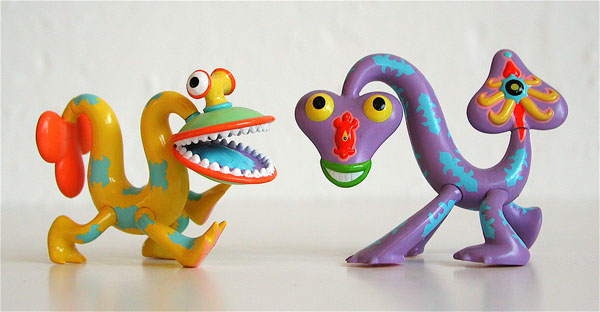 One of the most interesting designers on this list from an aesthetic point of view, Woodring has no real style that can be pinned down, no type of toy, no consistent quality. His deep background in underground comics gives his toys a fantastical dreamlike quality at times, and a cartoonish simplicity at others.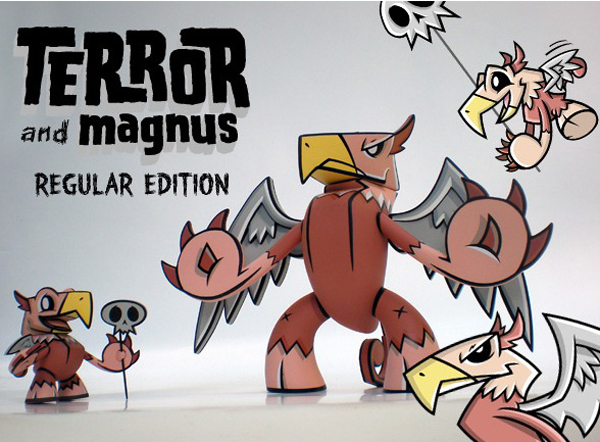 Joe Ledbetter creates highly stylized pieces that draw influence from the animal kingdom, with strong linework and bright, powerful colors. His resume speaks for itself with five Dunny series contributions, seven Qee series contributions, and a dozen designs of his own. Simply put, a Ledbetter piece is a must-have for any serious toy collection.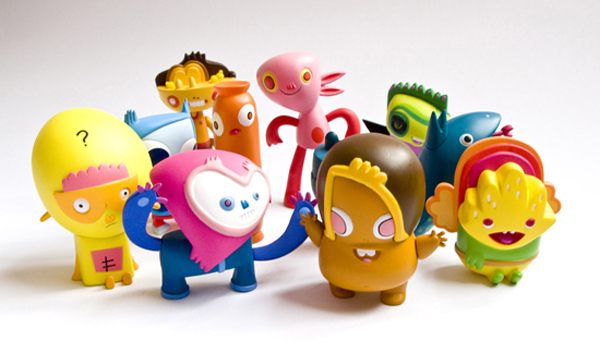 Professional doodler Jon Burgerman usually gains more renown for his prints and his work in two-dimensional work than for toy design, but his gritty, playful designs make him a fan favorite. He's designed one toy series already, The Heroes of Burgertown, and occasionally takes the time to do customs and toy series, making him one of those artists whose proven their chops, but works rarely enough for it to be an event.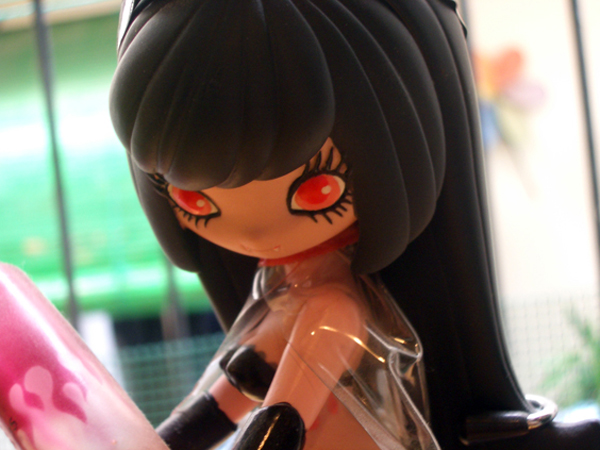 Japanese manga artist Junko Mizuno is one of the most popular illustrators in Japan today, unafraid to blend the grotesque with the cute. In contrast to her peers, Mizuno is unafraid to add psychadelic, colorful elements to her work, making for some spectacular toy designs.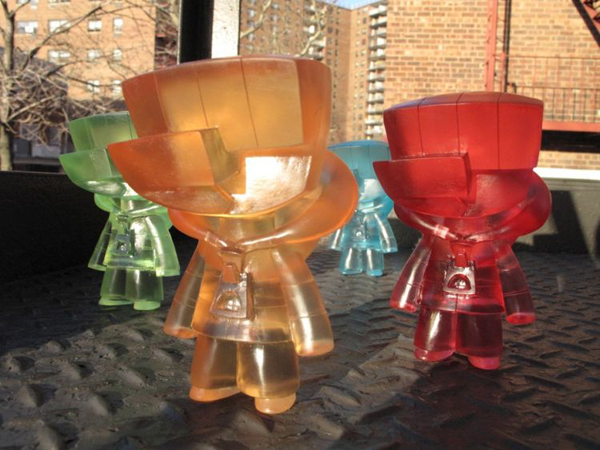 A former MTV layout artist, Danny Kimanyen broadened his base with character design and animation work before moving into vinyl toys. Kimanyen's Moneygrip and Bodega toys are standout examples of urban vinyl and should stand up well against the rest of your collection.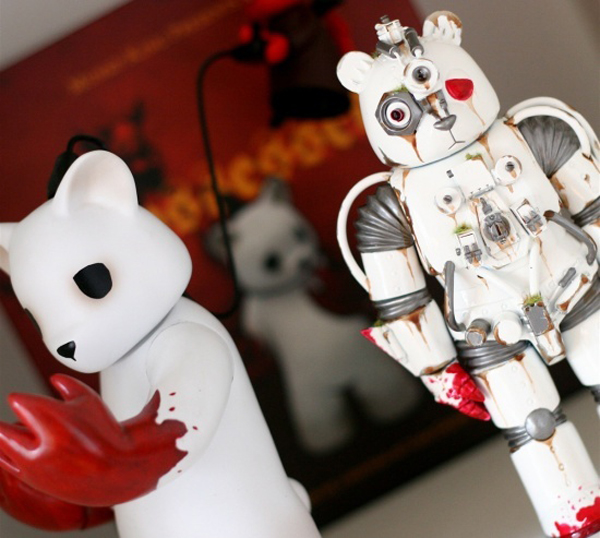 Chinese-American artist Luke Chueh established his fame as an illustrator, famous for his macabre bear drawings. For his many fans, it's great news that he teamed up with sculptor Dave Bondi to bring his work to life. Channeling the frustration of growing up Chinese-American into his toys and paintings, a Chueh piece is considered a must-have among the LA-art crowd.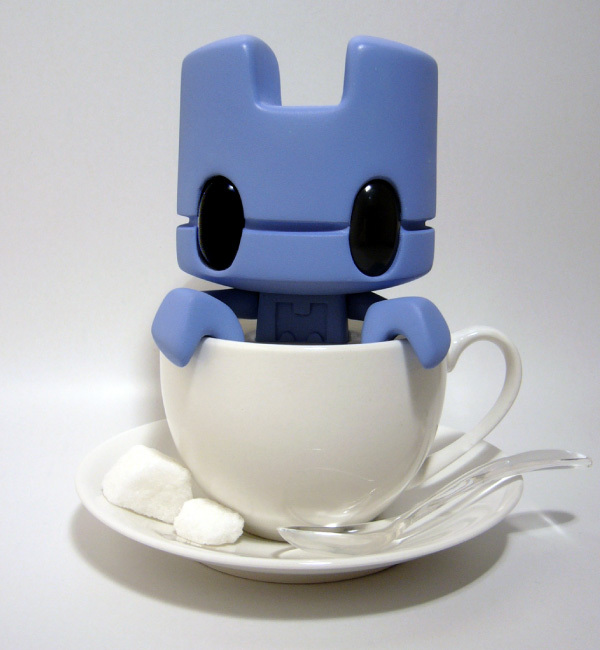 One of the United Kingdom's new generation of toy designers, Lunartik built his reputation through his top quality customs. In 2009, he independently released Lunartik in A Cup Of Tea, a quintessentially British toy that successfully combines design with the DIY work ethic.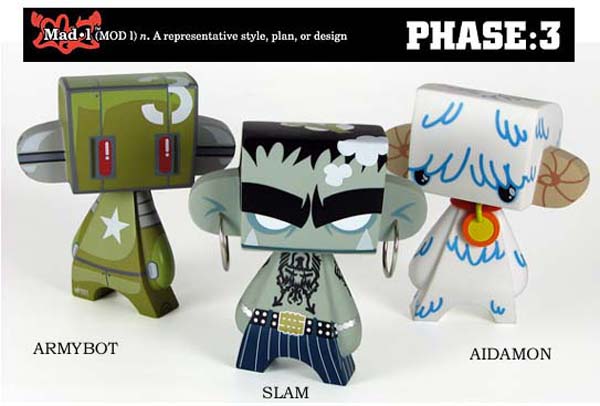 Jeremy Madl somehow managed to acquire a BFA in Toy Design, making him the envy of other fine arts majors, as well as perfectly ready to found Mad Toy Design. His Madl toy first appeared in 2004 and has exploded in popularity. The customization potential in the simple design has attracted artists such as Frank Kozik, Sket One and Tado.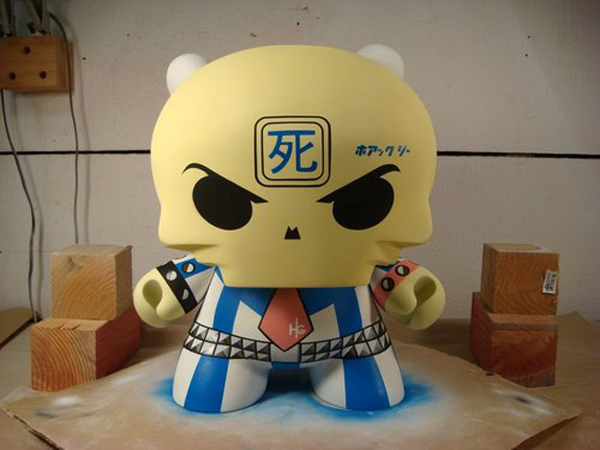 Former b-boy, former graffiti artist, and former graphic designer Mark Gee now makes his way as illustrator and toy designer. Gee has produced dozens of customs and collaborations with Kidrobot, Toy2R, MAD, and many others. While he's only designed four toys himself, his Bootleg blind box sold out online in 12 seconds – a testament to his popularity and talent.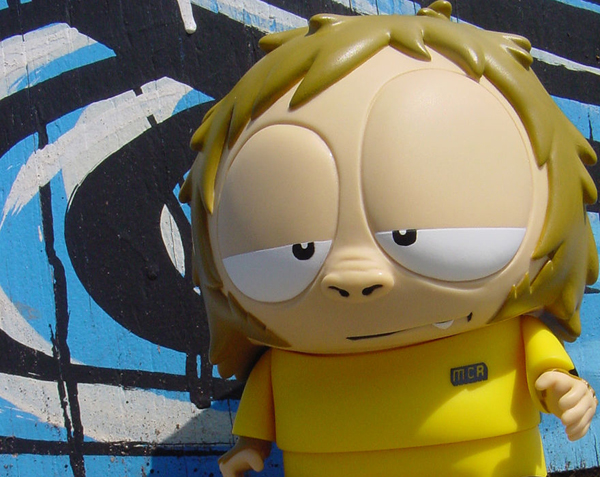 A former street artist and graphic designer, MCA has worked extensively with Toy2R recently, producing many collaborations. Among these include dozens of Qee customs, and the Evil Ape toy, along with its variants.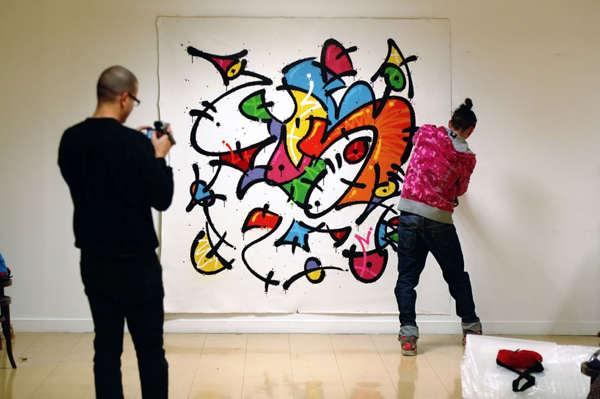 A veteran of the Paris graffiti scene, Mist earned a degree in design in the early 90s, then worked as a toy sculptor in the early 1990s. So when the designer toy phenomenon hit, Mist was a few steps ahead of the curve. Working with MedicomToy on Kubricks as early as 2002, Mist is one of the foremost French toy designers, being recognized with his own blindbox series by Kidrobot in 2008.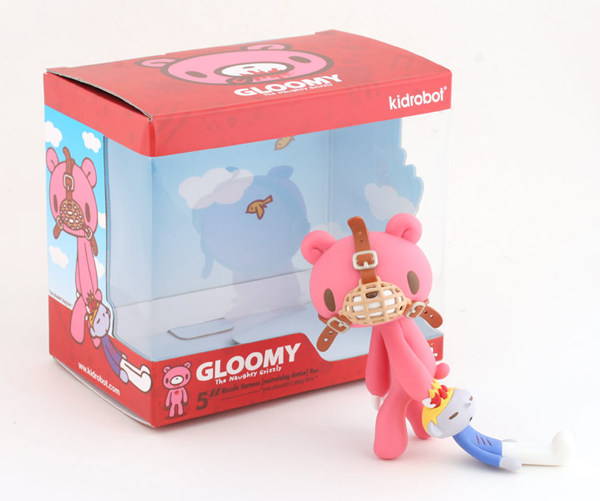 One of Japan's hottest exports right now, Mori Chack's work is seen far and wide, from comic book store shelves, to the CW's Gossip Girl. Chack has turned Gloomy Bear into an entire franchise, with a wide range of merchandise celebrating the violent, pink bear.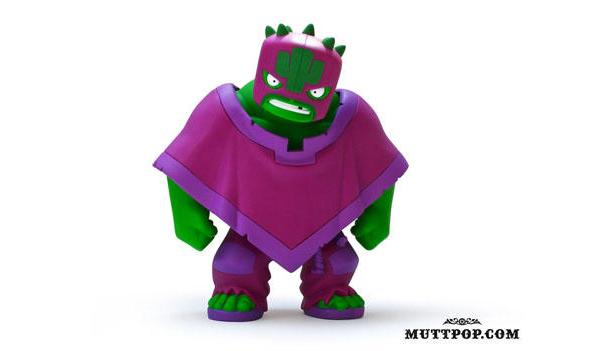 The three cofounders of Muttpop, Jerry, Gobi and Bill, got their start working at Humanoids Publishing in Los Angeles, years ago. Going it on their own, Muttpop was originally formed to create vinyl toys to go with Jerry and Bill's Luchadores5 comic.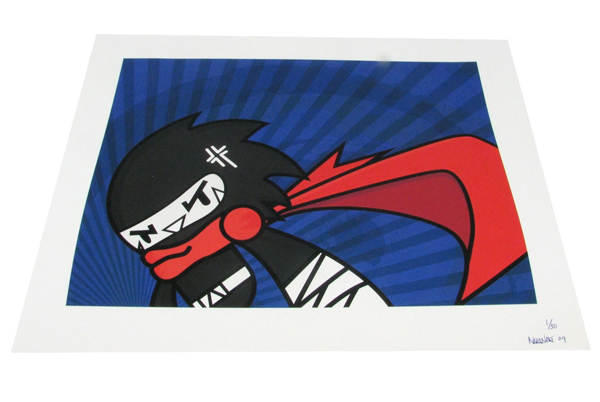 The founder of Mai Hiro, and a respected artist in his own right, Tony Shiau has worked for a variety of companies on one-off event custom toys, before moving into toy design. American fans can pick his Ninja Spiki toy up from Urban Outfitters, showing his broad appeal.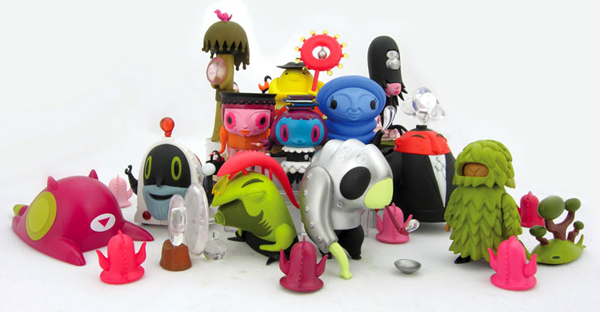 Toronto-based, Australian-born Nathan Jurevicius is best known for his Scary Girl comics, but his recognizable Tartakovskian style makes for some of the most unique, fantastical toys on the market today.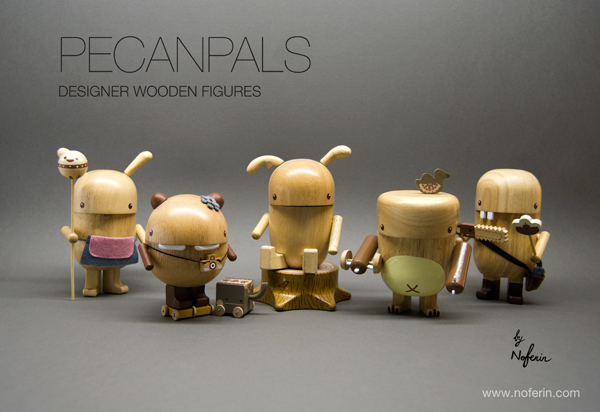 Husband and wife team, Noferin meshes classic wooden toy design with modern designer toy sensibilities. Creating a whimsical world on the fictional Carrara Island, Noferin brings new innovation to the toy world with its blindboxed wooden toys.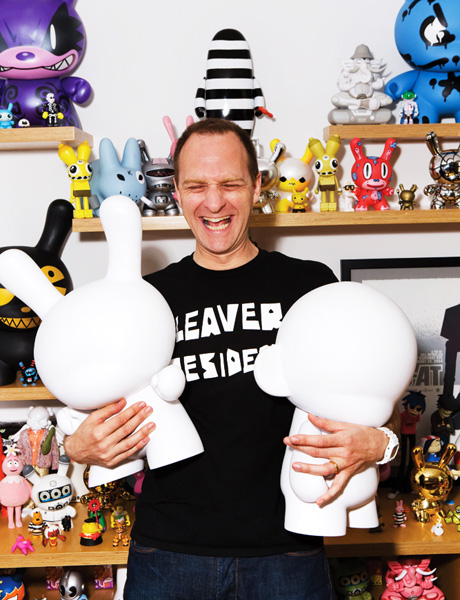 Founder of Kidrobot and codesigner of some of its most important designs, Budnitz has had his fingerprints on America's designer toy culture since Kidrobot's inception in 2002. Though Budnitz has only designed one toy line since co-creating the Dunny and Munny figures, his lasting influence makes him one of the most prominent figures in toy design.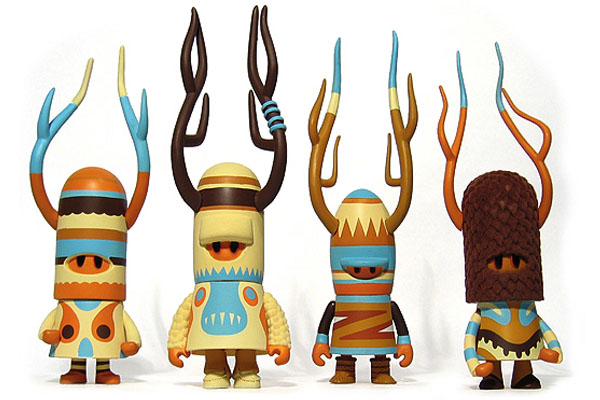 Fowler's prolific Monsterism series of vinyl toys has given him acclaim within the designer toy community. With Monsterism entering its fifth full series, and collaborations with The Magic Numbers and the Mighty Boosh, Fowler shows no signs of stopping now.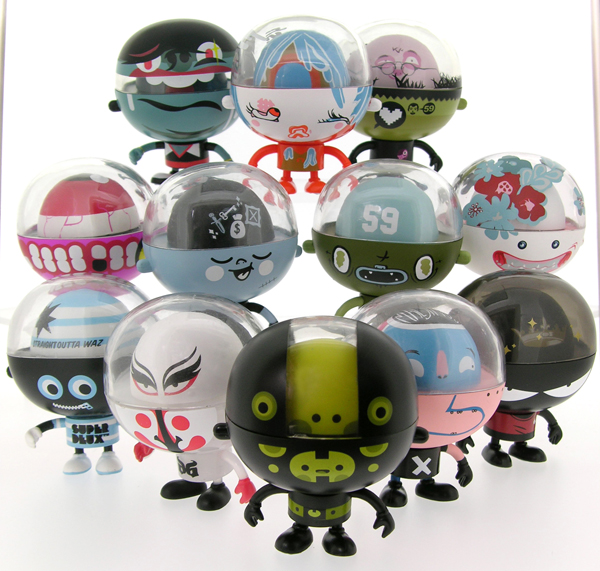 Rolito may be the most enigmatic figure on this list, but his visibility may be the highest. Rolito's minimal designs were used as the basis for the bestselling PSP game Patapon. On the vinyl front, Rolito has completed two Qee collaborations with Toy2r, and four Rolito designer toys.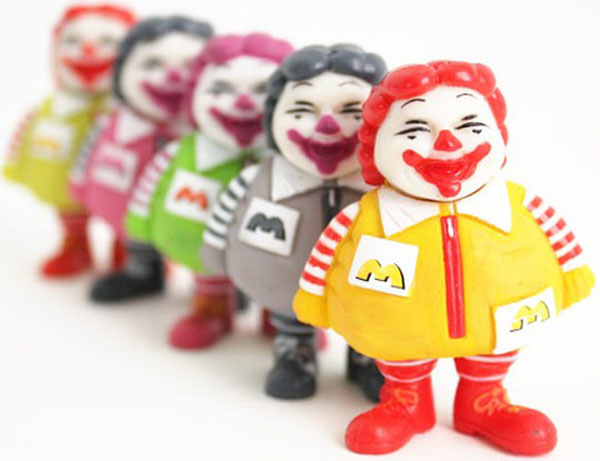 English is one of the those rare artists who doesn't expend any extra effort to make his works subversive – his mind's just wired to make biting critical observations of society. We toy collectors are just lucky that he takes his criticisms and makes them into toys.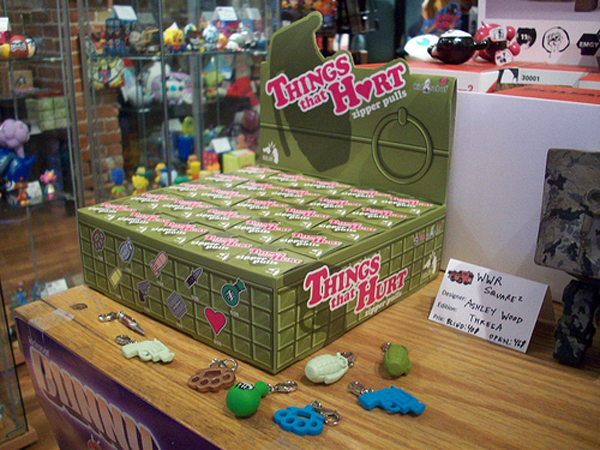 Shane Jessup's catalog of designed toys is not as varied or deep as some others, but he's contributed to several Kidrobot shows, and done some popular custom work. His first toy series, Things That Hurt, sold out and anticipation always rides high on any toy series he contributes to.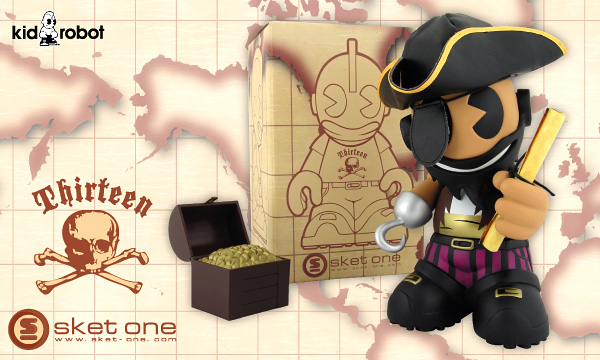 Graffiti artist Sket One built his reputation as a street artist in the 1980s, and has moved on from tagging buildings to tagging Dunnys and other custom toys. Sket One has produced more custom pieces than nearly everyone on this list, and has two series of his own under his belt.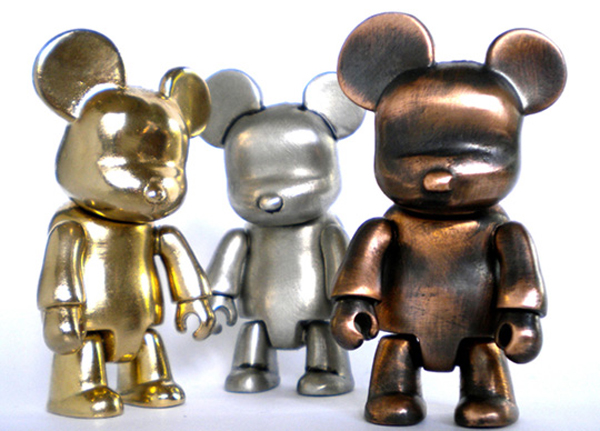 Head and shoulders above many other designers, Lee & Choy spawned the very first Qee. The gateway toy for the worldwide designer toy phenomenon, the Qee set the groundwork for the Be@rbrick, the Dunny and the many toys on your shelves today.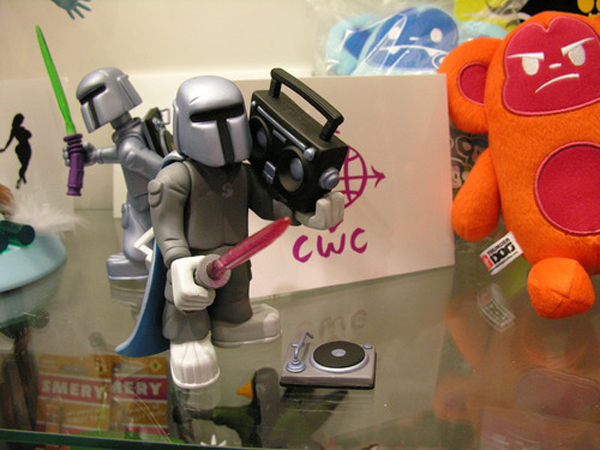 What do we really know about SUCKLORD? Not much, apart from a name. The mysterious figure responsible for Suckadelic and the extremely popular GAY EMPIRE toys is a living exercise in satire, turning pop culture icons on their head and creating toys that don't fit into any established category.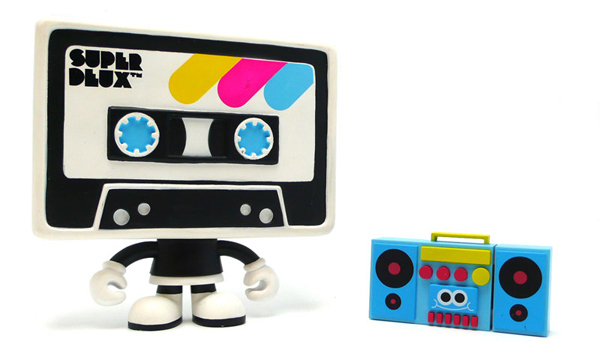 French design duo Superdeux has crafted some of the most exciting toys coming out of France today. With a popular Stereotypes toy series, and contributing to shows for both Tristan Eaton and Kidrobot, Superdeux is one name from Europe that you should be taking note of.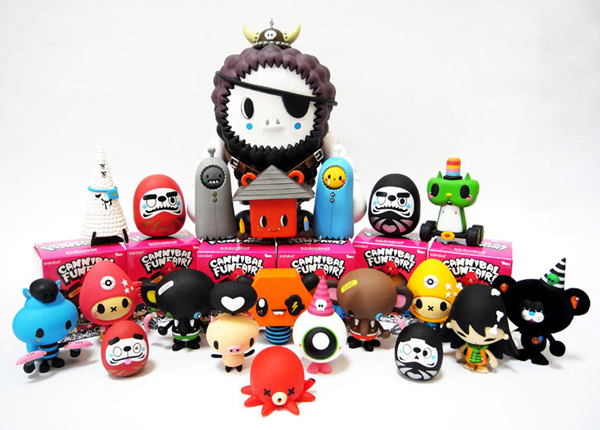 TADO is one of Britain's hottest design duos active today, with collaborations with Kidrobot and their own Cannibal Funfair toy line under their belt. To see TADO in action, check out the video of the opening of the Kidrobot x Selfridges pop-up shop in London, where TADO did a live painting of a giant Dunny.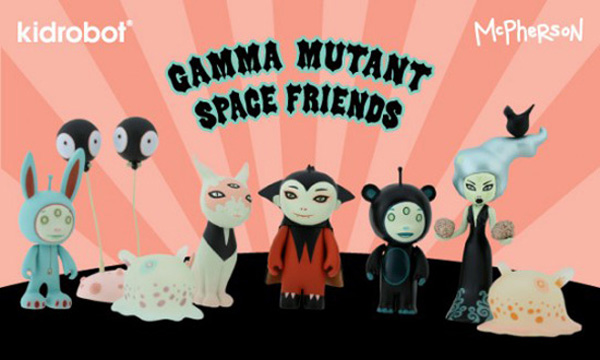 Somewhere between macabre and bizarrely cute lies Tara McPherson's work, alarmingly insightful paintings and toys that have a soft pastel aesthetic that feature an impossible, exciting style that's truly like nothing else out there. She's done the usual toy series contributions, and but it's her toysfor Kidrobot that have garnered the most attention.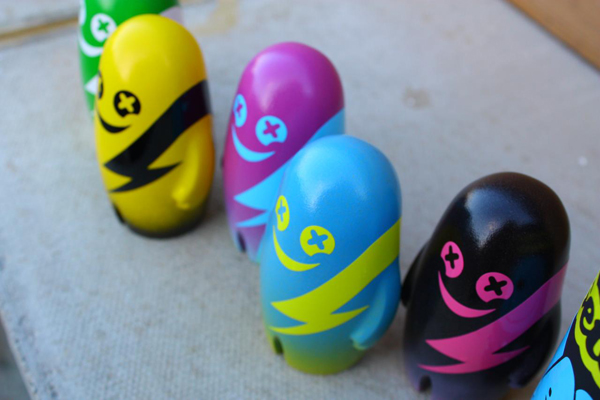 One of Britain's newest toy designers, Tesselate produced the Hearthead, Smile Crew and Oakor toys himself, without the help of a major studio. Documenting the process for other would-be-toymakers on his website, Tesselate is bringing real DIY ethic to the toy community.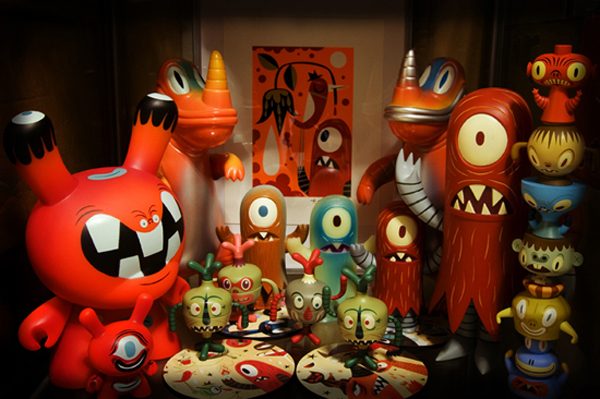 Tim Biskup's background as an animator is obvious at once, with a modern cartoony style, drawing influences from Tartakovsky and McCracken. The result is toy designs that are simple, yet surreal, drawing fans from all over to his toy work.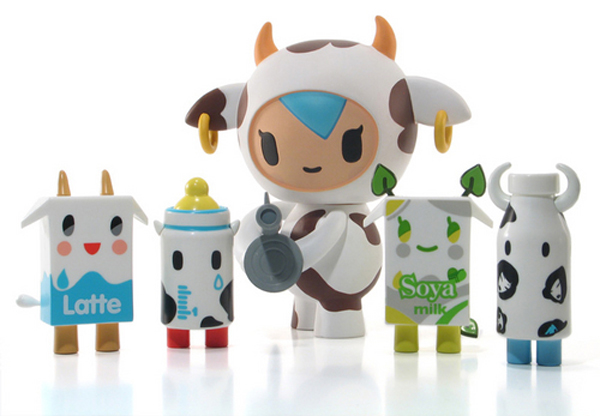 Founder and creative force behind Italy's tokidoki, Legno is one of the most popular and most widely seen toy designers in the world. Bringing the Japanese-cute aesthetic to the masses, tokidoki designs are seen everywhere from designer handbags to his own lines of clothes, toys and skateboards.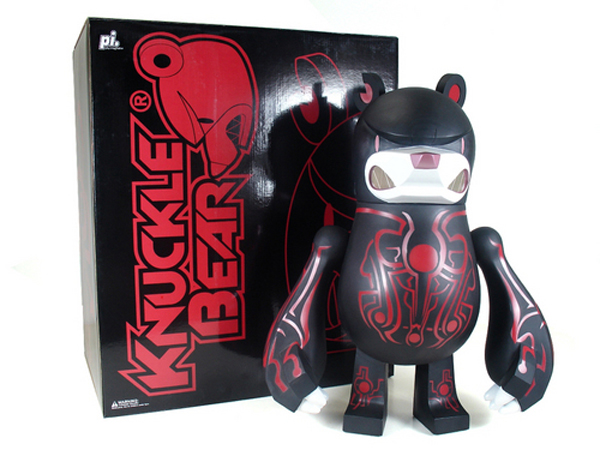 Perhaps the single most prolific toy designer in the world, Touma isn't a businessman so much as he is a business, man. His resume can boast dozens of collaborations with companies like Toy2R, MedicomToy and Kidrobot, making him one of the most sought-after designers in the world.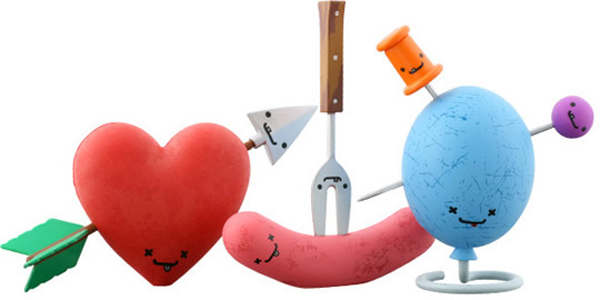 His work isn't especially prolific, but the unique view he takes of the world is unmatched in the American toy community. Only Mori Chack uses a similar world view in his work. Cain's popular BFF mini series was released through Kidrobot in 2009 and sold out quickly, with anticipation now riding high for a follow up collection.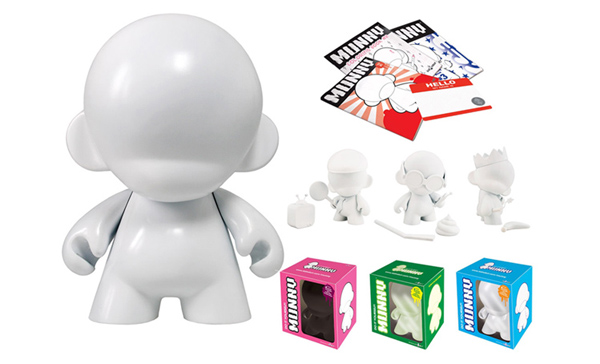 Former street artist Tristan Eaton would have been another forgotten tagger and graphic designer, had he not teamed up with Paul Budnitz during Kidrobot's early days. Two basic designs that Eaton sketched out eventually turned into the Munny and Dunny. Today, Eaton heads up Thunderdog Studios, his own studio and toy company, while still occasionally collaborating with Kidrobot.
_____________________________________
IN CLOSING FROM THE HERO....
I want to give a huge shout out to COLLECT3d, FORMATMAG, EROCKA for the DOPE CHRISTMAS GIFTS AND KASSIDEE <3 FOR JUMP STARTING MY ICE COLD HEART! - WORDBOOG!!!! IM GHOST....AND I LEAVE IN THE SAME WAY I CAME!!!!
PEAAAAAAAAAAAAAAACE! - HsH